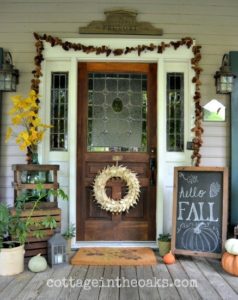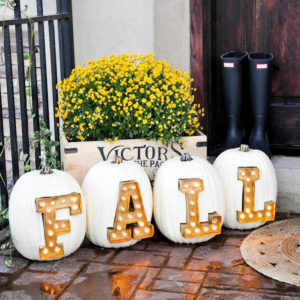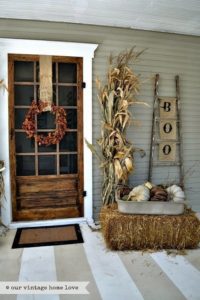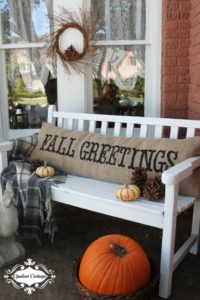 Are you the kind of person who loves fall and regardless of the temperature outside, especially in Texas, look for the first pumpkin everything? Pumpkin bread, pumpkin spice latte, orange decorations and of course the real thing, pumpkins! The first pumpkin stand has you waiting for them to open and locating the perfect pumpkin or pumpkins takes some time. Then you come up with the perfect pumpkin decor for your front porch or entry and since this can last through early fall, Halloween and into Thanksgiving, it need to be longlasting in its appearance. Yes, you can add a goblin or two and even a scary wreath on the door for the trick or treaters, but this front porch look is uniquely yours!
Take a look at some of the ideas above; certainly mums, pumpkins,  multi colored gourds, burlap everything, cornstalks, hay bales and fall garlands in autumn colors are a must for your porch. But, can you add a new porch mat, some furniture with a pillow or use a table to place the pumkins or gourds? How about adding some twinkling lights?
As a true fall lover, you know what makes you happy and eventually, those cool, crisp days will arrive. Use the early days of fall to create the front porch impression that expresses your autumn affection!