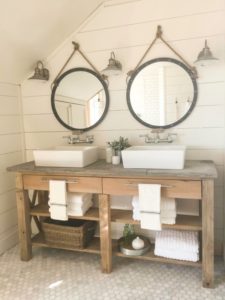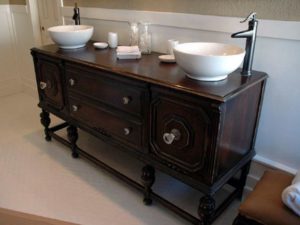 A vessel sink is one that sits on top of the vanity top or cabinet top rather than the traditional drop in or undermounted sink. These are available to complement any decor and when coupled with a unique faucet, can add that sense of "wow" to any bathroom.
There are many positives about installing a vessel sink in a bathroom. For one thing, they are easy to swap out if you decide to make a decorating change or update your space in another way. These sinks can make the space of the bathroom "seem" larger and you do gain a bit more space on the counters thant with an undermounted sink. These sinks are also easy to install.
Think about these negatives; could this be a decorating trend that will be shortlived? These sinks are taller when mounted on top of the vanity so shorter people and children may have difficulty reaching inside. The exposed edge of the sink is more inclined to chip and crack so consider the inherent design when selecting one. Water also tends to splash out on the vanity tops, meaning that you are constantly wiping and cleaning both sink and countertops.
Consider the pors and cons before deciding on including a vessel sink in your home.