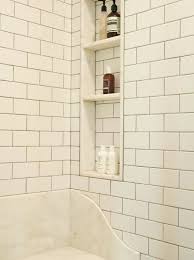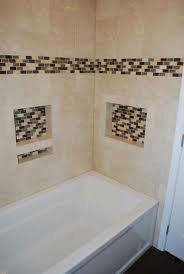 Is your bathroom on the list for a remodel this year? Are you struggling with exactly what you want to do and are stymied by all of the details? Let me share with you an idea that will help you out.
So many of my clients have outdated tubs and showers and want to replace surfaces, faucets and shower glass. When you look at your existing shower, are there shampoo bottles, soap, razors all over the place? Or, maybe you have a porcelain soap dish or corner collect-all for soaps. Do you hang a caddy over the shower head to hold all of your products and necessities? One thing you can do now that you have decided to remodel your shower or tub, is to use something more attractive and organized for this purpose.
Consider asking your carpenter to build a shelf or niche into the framing of the new shower or tub wall. You can provide the measurements based on the size of your bottles or containers.  If you need a separate shelf for a razor or a bar of soap, the tile installer can accomplish that within the already built niche. Once the niche is complete, it takes up less room in the shower or tub, keeps the clutter in one location and looks so much nicer!