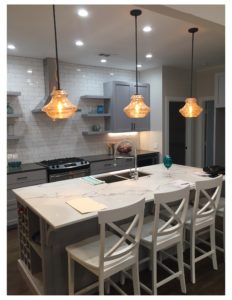 If you are deciding to start fresh with color and finishes in the new seasons of the year, you may need some new ideas to get "unstuck" from the past. The following are ideas to bring life to your home this summer:
Use bright colors for your kitchen remodel: soft colors of yellow and white will brighten up the kitchen, making it a cheery place to plan meals and do your cooking. You can also use other soft shades of light aqua, mint, pink and coral paired with white.
Pair white cabinets with stainless appliances for a classic, modern look.
Make sure cabinet changes are stylish and practical, utilizing great new ideas for storage like adjustable shelves, trash pull-outs, integrated drawers and the like.
Do you like the look of open shelves used to display your pretty dinnerware and serving pieces? Consider that today as an easy way  to organize your dishware since it's all in plain sight!
 Select your countertops from all the possibilties abounding today. Countertops are often the focal point of the kitchen so, go with bold and textured if you like that look. If you want another area of the kitchen to stand out, select cabinets that are more soft and neutral.
Utilize interesting accents for a unique look to your kitchen: pendant lighting, cabinet hardware, tile and glass backsplash.
It is a great time of the year for updating! Get to work!