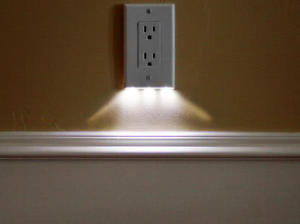 What is the key to making a lasting impression in a bathroom remodel? Think about the best ways to create a stunning and relaxing space with these ideas:
1. Free-standing soaking tubs are the rage-good-bye to the large jetted tub!
2. Consider a SnapPower Guidelight which is an outlet cover with 3 built in LED lights. Used as a nightlight or additional lighting, they automatically go off and on via sensor. See above.
3. WaterSense toilets and faucets help Americans save water and money every year.
4. Some shower faucets are an entire system for a true experience integrating water, sounds, steam and lighting. Check out Kohler's DTV.
Great ideas for a luxurious bath experience!