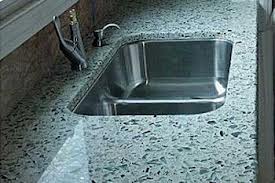 If you are considering doing a kitchen remodel that includes replacing old or dated countertops, there are so many choices to look at today! Although, many homeowners do choose granite, there seems to be a bit of a shift away from granite to other selections.
You might want to consider a popular alternative and that is quartz.  Quartz Countertops come in many colors, are practical since they are hard and stylish! For active families quartz is a good and long lasting choice! Quartz products are found by the name of Silestone, Caesarstone, etc.  Good news on quartz, no sealing, however it is not as heat tolerant as other surfaces.
Another choice that is available is called Soapstone, which is a natural quarried stone with a soft feel to it. Good news on soapstone is that they are not negatively affected by acidic substances, but do need to be oiled and buffed regularly.
Have you thought about concrete for your countertops? Easy to customize  as to shape and texture, these tops are durable and heat resistant. Good news on concrete is versatility but they are heavy and need to be sealed on a regular basis to protect them from damage from stains and acidic substances.
Glass countertops have increased in their popularity for the home due to the fabulous choices in color, the timeless look that they provide the kitchen and for those folks interested in using "recycled glass", they are a great way to protect the environment. Positives about glass is that they are heat resistant and they do not stain easily since they are nonporous, but they can crack and chip more easily and smudges from fingerprints are visible.
If you are thinking about making some changes to the countertops in your kitchen, granite is no longer the only choice out there! Consider exploring other options for your kitchen!