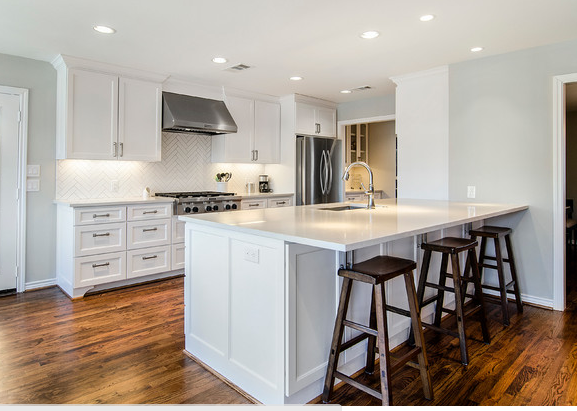 In the 2015 kitchen remodeling projects that I have been doing, I am seeing a several trends in the DFW area. Many of my homeowners are opting for a very open and clean look, connecting their kitchen and living areas together, by removing walls. In doing this, they are also creating either an oversized peninsula or island for eating, food prep,   dish washing,  storage, etc. Many times this involves removing entire walls to the ceiling to create this area for congregating and multi-tasking.
Customers are creating a clean look with less clutter for the eye to see by including hidden appliances like placing the microwave in the island, shaker style cabinets with simple lines and still using stainless for the appliance color of choice. Countertops are trending to quartz with subway tile or marble backsplashes. Often the backsplash tile is being placed in a design like a herringbone or brick pattern.
Floors are also an important addition to the look of the kitchen in 2015. Many people still love the look of wood, but are considering a tile product that looks like wood in these areas where water is present. Wall and trim colors vary depending on the creativity of the homeowner, but I am seeing gray take the place of the beiges, and creams of old with crisp white trim to complement the gray. Keep in mind that gray, just like other neutrals, has many variations to select from, so take some samples home to look at them on the walls in your home environment, before buying!
See if these are ideas that you might like to try in your home!