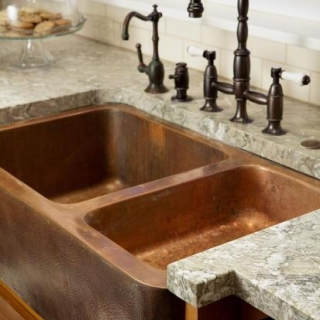 Kitchen sinks today are not your Mother's sinks! There are several stylish options available and just like kitchen other selections for the kitchen, you need to consider how you work in the kitchen as well as what your style is. A well-made sink should last 15 years or more, with a good quality sink starting at around $200. Checkout several options that are available today!
If you like a sleek, smooth look in your kitchen, an integrated sink may appeal to you. These sinks are fabricated from the same material as the countertop with no visible seams, and are one solid piece. Extremely low maintenance and the most sanitary, these sinks are durable and available in many material options.
Farmhouse sinks are also called apron-front sinks and are very stylish and utilitarian, due to the size of each basin; great for large pans and pots.  Some of these sinks may require a revision in the cabinetry if being done on a kitchen remodel.
Undermount sinks are sleek and blend well with the countertops, since it is placed underneath the countertop. There are many choices for size and material in this type of sink and the prices are  affordable. Since there is a seam, it must be cleaned thoroughly.
A self-rimming sink is one with a finished edge or trim and sits atop the countertop.  Affordably priced and available in multiple finishes and sizes, this is a n excellent choice in many kitchens. Since it is also seamed, thorough cleaning is required.
Trough sinks have made an appearance in today's  market. These sinks are long and lean and can accommodate multiple faucets. Good for kitchens with more than one cook, these sinks can hold larger items and containers. Take care with the existing cabinetry and make sure that your kitchen looks right with this oversized sink, as some kitchens do not look proportional with such a large sink.
With so many choices, consider how you use your sink before you make a selection.