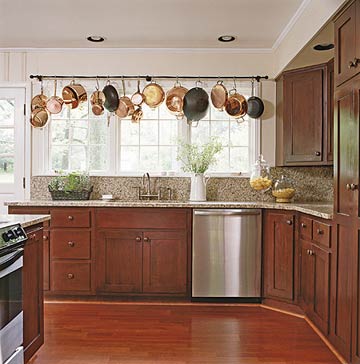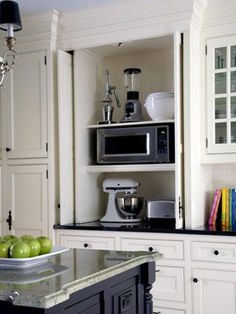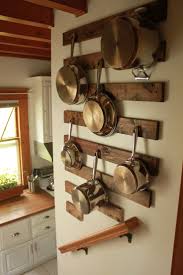 I have never talked to anyone who thinks they have more than enough cabinets, closets and drawer space, so if you are searching for more ways to get greater storage in your kitchen, consider a few of these ideas!
Maybe it is time to clean out the clutter and remove anything that is not used to free up more space. Consider, old linens, pots, pans, casseroles and even old appliances that are just taking up room in your precious cabinets and drawers. Think about replacing those old appliances with new ones that serve multiple functions. You can also free up countertop surfaces by doing the same thing. Maybe build an appliance garage to house larger appliances or place them in an underneath cabinet to hide away the appliances that you do not use often. Get rid of stuff that you no longer use!
If you have a location for this, you could hang up your pots and pans on a  ceiling rack, that puts them in reach of your cooking needs, as well as freeing up the cabinet that once housed them. If you do not have the room on a ceiling, you could install wall racks above ovens, on the backsplash,  or over a sink, to suspend spoons, towels or pots out of the way.
If you decide to remodel your kitchen, think about adding an island to provide more storage. This can be either stationary to match your cabinets, or a rolling one that will give you more flexibility!
Getting yourself organized by analyzing what you have and how best to arrange it, is another way to free up space. There are great ideas at retailers like Home Depot, Lowe's or Container Store. You can use racks, pegs and shelves to get yourself more efficiently organized.
So, if you take some time to organize your stuff, you might not have to spend a whole lot of money to gain more storage space in your kitchen!