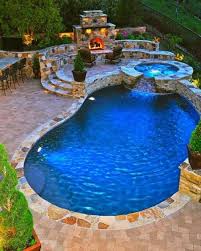 School is out and June is here! Time to enjoy your yard and swimming pool!  You will notice that in 2017, we have moved from the basic white rectangular looking swimming pool. Today, almost anything goes and your imagination is your only limitation!
Pools today are not just for swimming but part of the visual beauty of the yard.  A combination of a pool and an outdoor fireplace helps to create ambience in the yard and allows you to extend your "pool time"  into the cooler months.
You will see glass tile, pebbles and stones in the finish of the pool and shapes are never boring. Saltwater chlorination is a way that owners can opt for less chemicals in the pool water. Energy efficient pumps and heaters are also common in the pool of today to help the owner save money on pool maintenance. Many pools are automated and the lights, jets and pumps can come on automatically.
Often included with the swimming pool of today is a swim up ledge where you can lounge and sunbathe or even a beverage bar. With outdoor living rooms and all sorts of lighting around the pool and bar, your pool has become another living space and spot for entertaining your guests.
Happy summer!