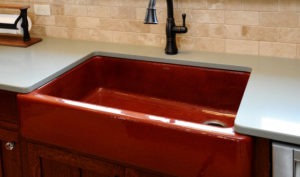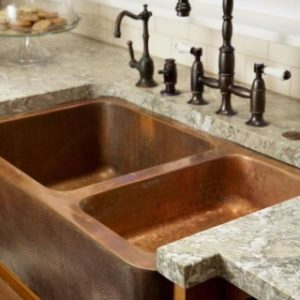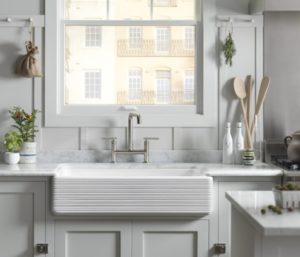 The Farmhouse sink or apron front sink, as it is also called, is being shown everywhere and with all types of decorating styles. Featured in metals, clay, porcelain, stone and in so many colors, the availablity of sizes and shapes is also so varied, that you can use a farmhouse sink in any kitchen.
The pros  of this style of sink:
Gives the kitchen a cozy feel and they are so pretty! A farmhouse sink becomes the focal point of your kitchen.
The bowl is large which enables you to wash large pots and pans with little effort.
Typically, they are quite durable.
Cons:
They can be pricier than the more commonplace sink styles that we are used to.
If you are remodeling a kitchen to include an apron front sink, your sink cabinet will need to be modified to install the sink. Extra support is also added in the lower cabinet to support this heavier sink. That takes some of you space on each side of the cabinet away.
Make sure your sink has a drain that is slightly angled into the drain so that all the water drains out. If you opt for a flatter bottom, be prepared to wipe the water out after you drain the sink.